AMATERAS 8097[S]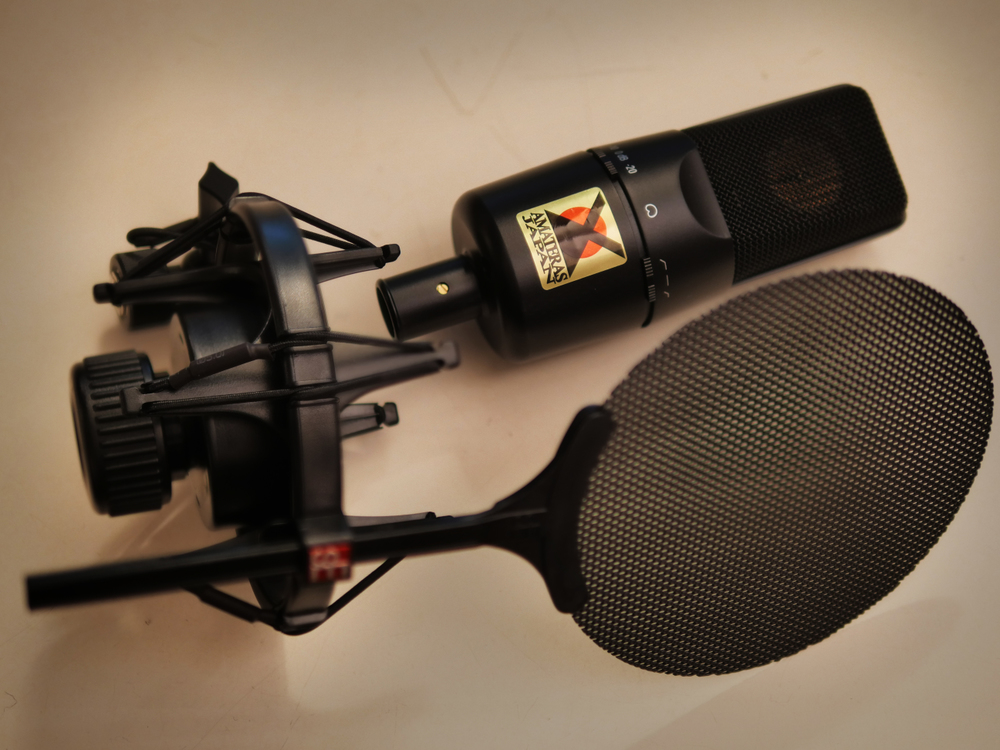 Large diaphragm condenser microphone
---
Capsule Type: 2/3" Permanently-Biased Condenser
Directional Pattern: Cardioid
Frequency range: 20 Hz - 20 kHz
Impedance: <50 Ohms
Sensitivity: 20 mV/Pa (-34 dB)
Max SPL: 130 / 150 dB (0 / 20 dB pad, (0.5% THD @ 1kHz)
Signal to Noise Ratio: 78 dB(A)
Equivalent Noise Level: 16 dB(A)
Dynamic Range: 114 / 134 dB (0 / 20 dB pad)
Low Cut Filter: 100 Hz, 6 dB/oct, switchable
Attenuation Pad: 20 dB, switchable
Connectivity: 3-pin male XLR
Power requirement: 48V phantom according to IEC 61938
Recommended Load Impedance: >1K Ohms
Current Consumption: 4.0 mA
Diameter: 58 mm (2.28 in.) x Length: 169 mm (6.65 in.)
Weight: 402 g
AMATERAS 1010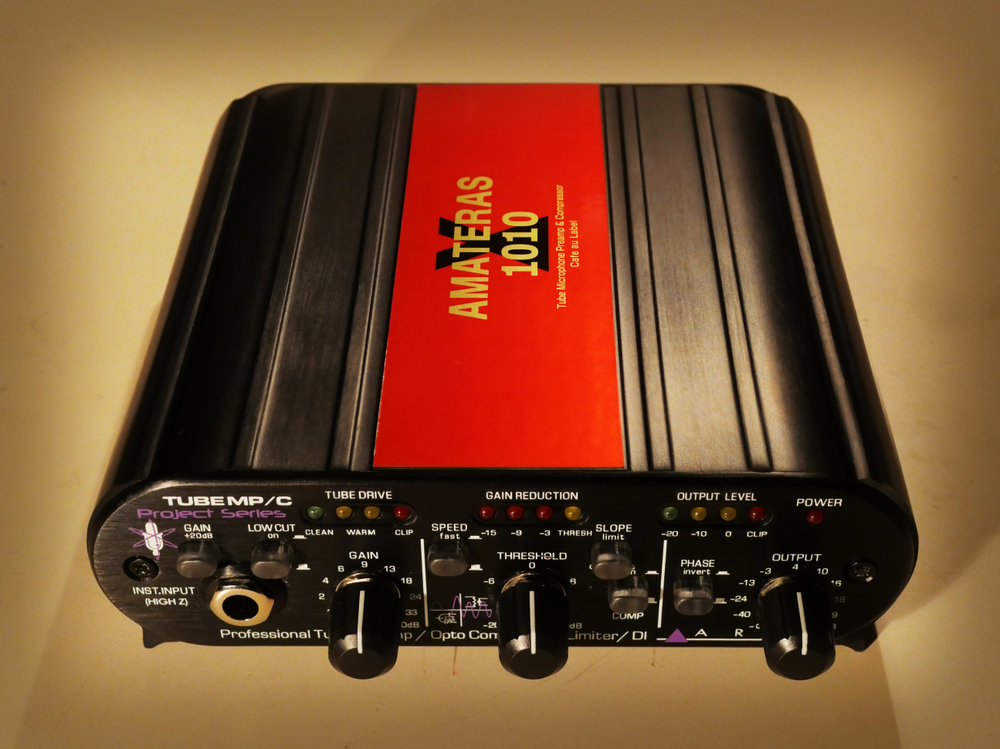 Microphone Preamplifier & Optical Compressor
---
Specifications
Frequency Response 30 Hz – 60 kHz +/- 1 dB balanced output, 20 Hz – 60 kHz +/- 1dB 1/4″ output
Total Harmonic Distortion <0.1% @ max gain
CMMR > 60 dB @ max gain
Equivalent Input Noise -128dBu typical ("A" wtd., Shorted XLR balanced input, gain @ max)
Input Impedance 1M Ω 1/4″ input, 5K Ω XLR input
Input/Output Connections Input: XLR balanced or 1/4″ balanced. Output: 1/4″ unbalanced XLR balanced, transformer isolated.
Maximum Gain +80 dB (balanced in-out, +64dB (unbalanced input, balanced output)
Maximum Input Level unbalanced (Inst): +15 dBu, balancd (mic): +10 dBu
Maximum Output Level +19 dBu (Line mode)
Output Impedance XLR: <600 Ω, 1/4″: <300 Ω
Low Cut Filter -3 dB @ 70 Hz, 6dB/Octave
Phantom Power Switch selectable, +48Volts DC, filtered, current limited
Chassis Type All aluminum black anodized with integral rubber sides
Power Requirements 9VAC @ 1000mA (external)
Attack Time <1 ms (limit), 20 ms (comp.)
Release Time 150ms (fast), 20ms – 3s Program dependant (Auto)
Tube Type Hand selected 12AX7a
Compressor Slope 2:1 (Comp.) / 11:1 (Limit)
Dimensions 1.75″H x 5.9″ W x 6.5″ D (44.5mm x 150mm x 165mm)
Weight 2.9 lbs (1.38 kg)
Notes 0dBu = 0.775V rms
Weight includes power supply and packaging
AMATERAS 0001 compact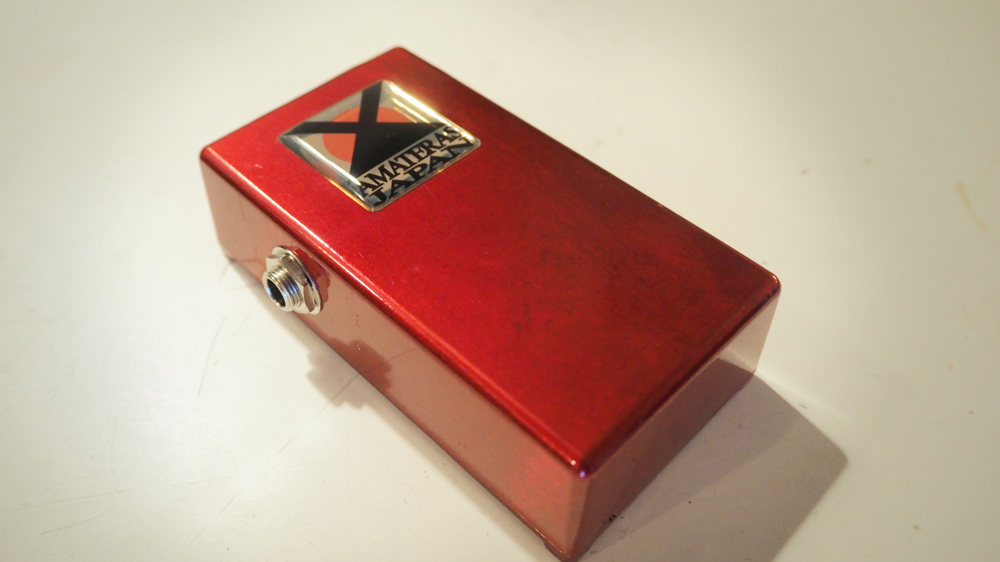 Line Transformer
---
Type : Passive Line Transformer,
Frequency Response : 10Hz-80kHz+/-0.3db,
Connector:
TRS Phone Input = Balanced (unbalanced if mono jack is inserted) x 1 (manufactured by SWITCHCRAFT),
TRS phone output = balanced (unbalanced if mono jack is inserted) x 1 (manufactured by SWITCHCRAFT),
size: (height: 31mm, Width: 60.5mm, Depth: 112 mm)
AMATERAS 7000 series
A cable set
---
Microphone cable : AMATERAS 7033 XLR - XLR 3m
Cable for equipment : AMATERAS 7022 TRS - TRS 1m
Cable for equipment : AMATERAS 7022 TRS - TRS 1m
You can greatly reduce the amount of effort and time you've been wasting on unnecessary equalization by getting these equipment now.
You can use your effort and time for more important and creative things.
Good equipment can help you.
---
Industry's highest cost rate
〜The reason why it is only available here〜
Usual cost rate you see for audio equipment is 30% but we offer 50-60% . This is possible because we have a direct deal with manufacturer unlike some having retail store or distributer in between who takes margin. All of our products are made with high quality parts that would not be accessible to big producers.
---
We deliver to most countries in about 10 days from Japan.